Discover more from The Physical Movement: Play. Lead. Be Strong.
30+ years of coaching and teaching experience documented in a weekly newsletter. Topics covered include youth sport, leadership and human performance.
The Physical Movement: Your Best Self. Simple Strength Series. Keeping Your Legs Strong.
Keeping our legs strong will help us with energy, reduce soreness and continue to allow us to keep doing what we love and/or have to do.
Even if you are not at the point where you are worried about getting up and down from the toilet or the stairs, preparation starts now.
If you are over 40, preparation needs to start now.
If you are on your feet a lot, preparation needs to start now.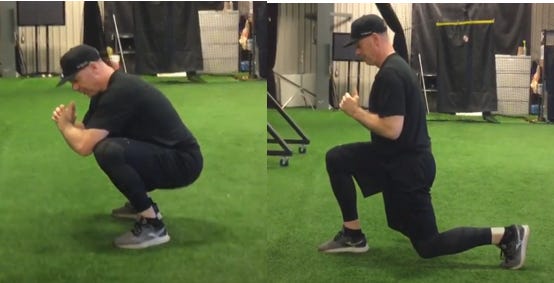 Photo courtesy of Athleticover40.com
If you are on your feet a lot in your work or as a coach, then you are can relate to fatigue and aches and pains in your lower body.
The good news, you can do something today to slow down the decline and even reverse it.
You do not need to be a body builder, exercise physiologist, have any equipment or a lot of time.  A commitment to being the best we can be is all that is required. That and a few minutes every 2nd day.
Preparation needs to start now. 
Here is what you can do:
Carve out a few minutes every 2nd day and go through this routine.   You may have to start slow, and work on range of motion. You may have to use a chair or wall to help you a little bit.  You may experience a few aches and pains, but, like a good financial investment, this will give you a great return!
Here is what we have put together in our Athleticover40 Couch2Coach series, but it applies to all of us. I have been working out a long time, coaching a long time, and rely on this when I get real busy for myself, or with athletes of all ages looking for something to keep them strong.  Either an early morning routine or while at the field or in between sessions. Mountain Squats. Love them/hate them!
This is so powerful.
1.      Time for yourself.  If you are a health care worker or parent or coach or teacher or anyone who focuses on other things than yourself, taking some time for yourself is a critical step in being able to have enough energy to get through the day.
2.      Physically get stronger.  Simple concept. You don't do anything today, you get weaker. Sorry, that's the truth. So build yourself up for  today and tomorrow and beyond.  Get stronger. Regardless of your past.
3.      Mentally clear your mind. Getting some time to simply clear your mind is needed and often overlooked while very beneficial. 15 minutes for yourself doing something like this gets that done.
4.      Release some powerful endorphins.  Movement and exercise are the best forms of medicine available.Doing something today is like taking a magic pill. If the benefits of exercise could be packaged in a pill, it would have been done.
If you liked this, you will also like our Couch2Coach series on upper body strength via pushups
https://thephysicalmovement.substack.com/p/the-physical-movement-lifestyle-10