Discover more from The Physical Movement: Play. Lead. Be Strong.
30+ years of coaching and teaching experience documented in a weekly newsletter. Topics covered include youth sport, leadership and human performance.
Get To Know Trevor Nyp. Accomplished More by 27 Years Old Than Some Have in a Lifetime by Following 1 simple rule. Make the Journey the Desired Outcome.
The Physical Movement is a weekly online newsletter that shares information and best practices from the world of coaching, teaching, parenting via the world of sports. This week we meet Trevor Nyp.
Good Sunday Morning!
Hope wherever this finds you that the sun is shining, your health is good and some time outdoors is part of your day!  
I am so pleased you have chosen to spend some time with us before being on with your day.
Today, we have some great treats in store for you!
We meet Trevor Nyp, a 27 year old business owner and coach who has taken a remarkable path in following his passion.
After that,
·        We have a leadership article on how to stay calm under pressure. Yes, it is a skill that can be practiced!
·        Our self-care article of the week covers how to build leg strength in a very simple equipment free routine, and,
·        We share the latest on sleep and athletic recovery.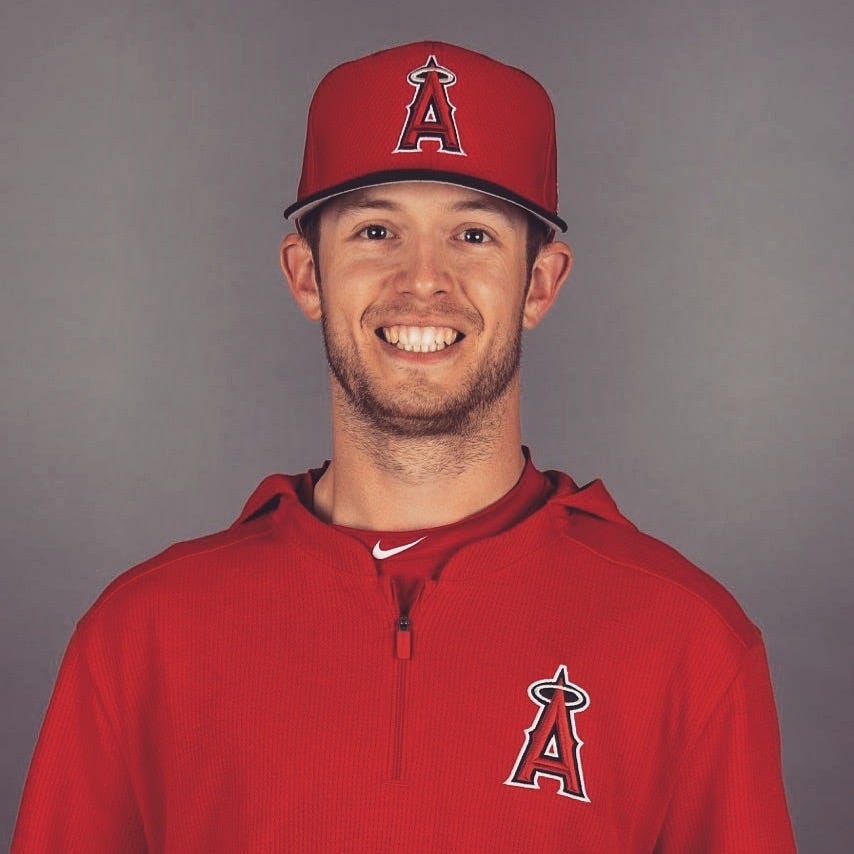 Playing youth baseball in Kitchener, Ontario, Canada is a long journey to coaching at the LA Angels training camp in Tempe, Arizona, USA.   Tempe is approximately 3471 miles/5586 km from Kitchener, a smooth 35 hour drive and a few degrees warmer!   
Growing up Trevor Nyp could never have imagined that would be his spring job at 26 years old in February 2019.  But that is where he found himself on his way to a summer assignment coaching 3B for the Burlington Bees, the Angels class A minor league affiliate.
But making the journey is the desired outcome for Trevor, who coaches youth through pro with very much that very same message.
The Physical Movement sat down with Trevor recently to discuss his journey and what he has learned along the way.   I thoroughly enjoyed our conversation and I hope you will as well.
TPM: Thanks for joining us. Appreciate you spending the time. Tell me about your journey of playing, to business owner to coaching, and how it has evolved to where you are today.
TN: My pleasure, thanks for having me.
Growing up, I was exposed to lots of sports through family, my brothers were both athletes. My dad was a huge sports guy.  I was exposed not just to baseball but all sports. I played lots of sports growing up, basketball and baseball, hockey, football through my youth.
That was one of the early drivers to getting involved in playing.  Played basketball in winter to baseball in summer and did that through high school.  It was in high school that I realized that playing baseball in the USA was a thing.
That was a time when getting recruiting videos out was not that easy to do. That was not that long ago. 11-12 years ago!
Did that and got a scholarship offer to go play Junior College in Illinois and met some amazing people there, some I still keep in touch with, some playing pro, but generally had a great year there.  It was there that my eyes were opened to a different level of training.  Playball USA was this indoor baseball facility. 4 tunnels and a weight room. That's it, but I fell in love with the indoor training process, getting in the cage and working on skill development and the culture around that.  Working off the tee, and working with other players and this culture and seeing how players used this facility.  I thought, why don't we have this back home?
Had a good year.  But educationally was not the right fit for me. Financially, even though a scholarship, there were a lot of added fees and that made it a little heavy on family.
So, I decided to come back and play junior ball in Kitchener.  I approached Scott Ballantyne to play for Wilfrid Laurier University and found a spot there for 3 years.  In the summers, I played Junior and IBL for the Panthers, and in the fall for Laurier and it was a lot of fun.
As much fun as it was, I kept thinking about that instruction thing and training and what would happen up in Kitchener-Waterloo with another level of training resource.
It was in my 3rd year at Laurier when I decided that I wanted to build a facility in KW and create something special like I saw in Illinois for the baseball and softball community.
That idea became way more interesting to me that what was going on at school.   I went to dad and said I think I want to open a facility.  He said: "go for it", and was very supportive.
4 years prior I had made a connection with Sam Hirani who had told me that if I ever wanted to do something in business, to give him a call. So, I called him with my idea at 19 years old to see if he would invest.  He looked at my first plan and said no.  He looked at my 2nd plan and said no. With my 3rd plan, he said this could work and we had a partnership. 
Sam left me in charge of developing everything around the facility. That was an unbelievable experience, design, construction and deadlines.   For a 19 year-old, this was an unreal level of business education, real world education in real time with real dollars.
It became fight or flight.  We figured it out. We opened Playball Academy Canada https://www.playballacademycanada.ca/ in 2014 and I  learned to adapt to what was needed as the business got started.
At first, I was not planning on coaching.  I was going to be the GM and managing partner/owner and that's it.  I would keep playing IBL and that would be fine. However, within a few months, I started to get the coaching bug and felt I could do a good job.  I started to bring together my experiences and work with young ball players and really enjoyed it.  I was in that player development role that was first triggered at Playball USA.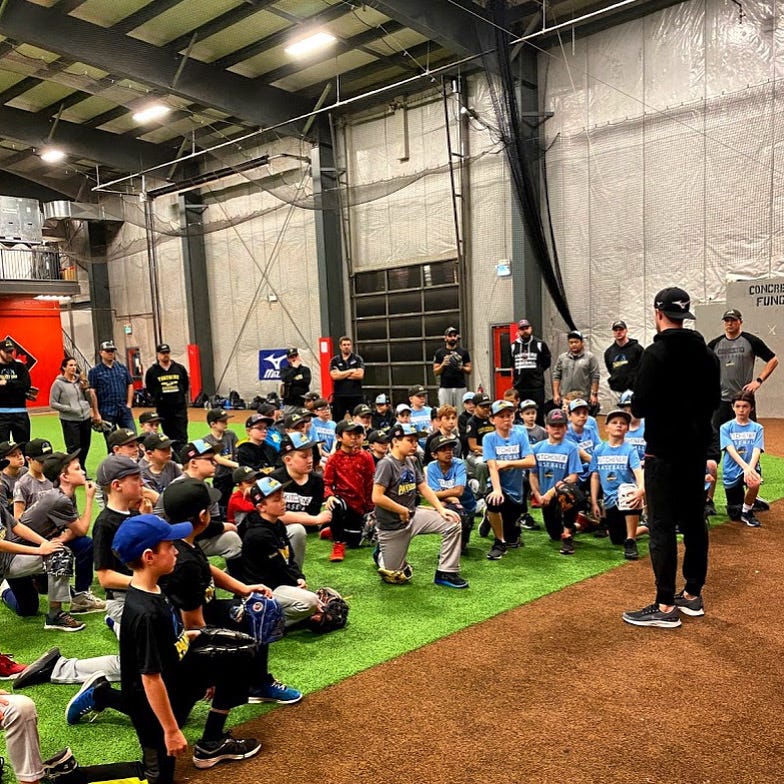 My coaching started to develop into an infield specialization. That is where I felt most comfortable and the need was there.
I started to put some stuff on Instagram. Some thoughts around defensive skills, and a following developed. The LA Angels found it and it led me to a job offer in their minor leagues.
There you have it!
TPM: Wow. So many great lessons here.  The one that really jumps out how 1 thing kind of led to another, and not necessarily mapping out the next 8-10 years and only working on that as an outcome.
TN: I think many times we have a plan and don't want to deviate from that plan. We don't want to change the execution of that plan, when in fact deviating and evolving and adapting can get to a better plan or a better outcome. Not one that you saw at the beginning.
TPM: You mentioned earlier about high school recruiting and it being not easy to do,  all the way to a  following on IG to getting interest and job offer from LA Angels. Wow.
TN: It is wild that we have come this far with technology in such a short time.
It is an incredible impact that our phones and social media have on the sports world, baseball, and the world in general.
Touch of button, you can get anything, a full on workout program, whatever you want.
It's great but it can be detrimental as we don't always know right and wrong.  There is no filter.
That is where we are at, a lot of stuff is put on social media just to get exposure.
Sometimes it is just ego boost to get something out there and it's not always the correct information.
We have to be careful with the technology side of things that way.
TPM: Yes, itcomes at us so fast, tough to differentiate good from bad. It does not sound like you started posting on IG  (https://www.instagram.com/tn.defense/) with the intention of getting a  big following or a job in pro ball?  It started with a passion. It started with an interest, that obviously came through in your social media presence. It was about development. About the journey. Tell us about that.
TN:  Having a resource for myself was the first goal for me to start posting. It was a reference point and a chance to organize my thoughts.
I did not have a big following, until 1 video got a big response.  
I continued to challenge what I saw, and my own thoughts. I feel it is important to make sure we are being critical and thinking for ourselves.   Social media platforms with a critical eye, what makes sense and what not.
I had zero motive on outcome,  but rather a tool to help in the journey of supporting player development.
TPM: Part of our sport culture does not allow our young athletes to fail, and very focused on outcome. But yet, that is where we learn, by adapting when things not going your way. There is a lot of that here.  Your family support to your idea of opening a facility.  Thinking critically using social media.  It looks more like it was your instinct to do this, then the following created the realization that this was  powerful.   
TN: Our sports culture focuses on outcome way too much in player development.
I was guilty at times in putting things out there just to get some likes. I got some likes, it became addicting. To put things out to get some viewership can be an ego stroke , so had to catch myself cause that motive was not always helpful.
So, I started to realize getting out information has to be based on helping players get better for it to be constructive.
For me, the learning experience from grade 12 to now. Drop out of school to open a facility, forced me into positions to learn.
Those learning experiences made me the man I am today. Would not change it for the world.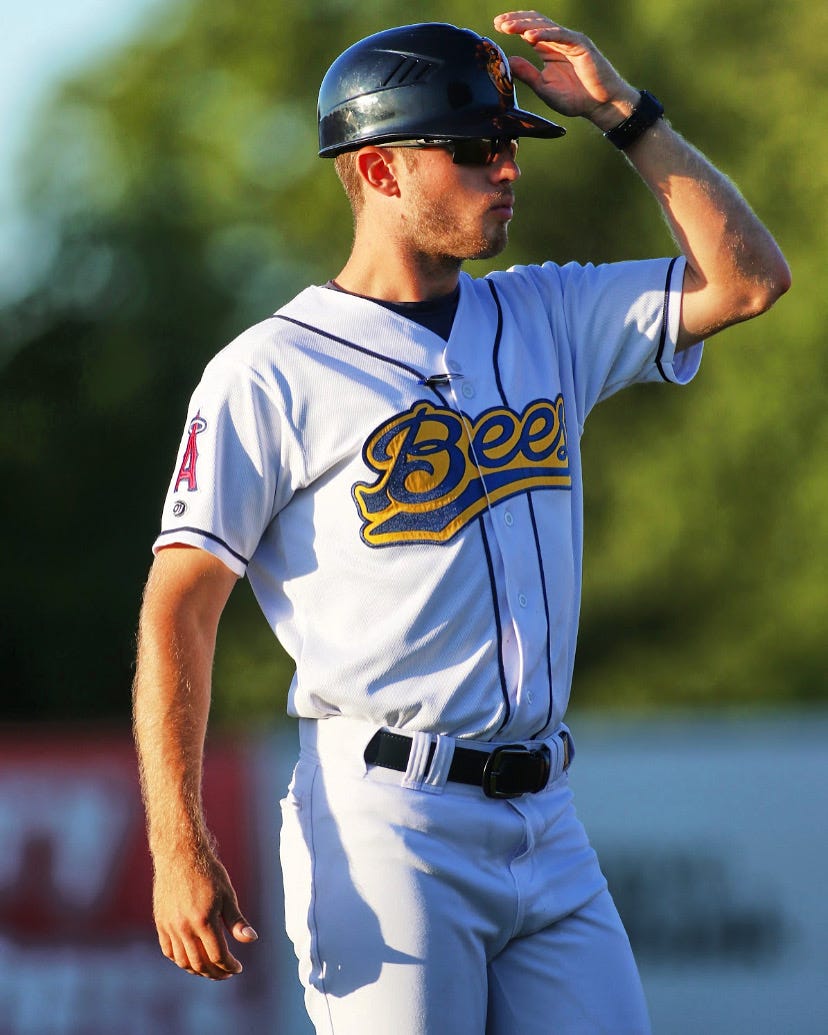 TPM: the focus on outcome only kind of takes away form that does it not?
TN:  I think it is critical to understand difference between the process focus and results focused.
As coaches, if we have a focus on process for young athletes,  then we are light years more successful than if just outcome result oriented.
Sometimes the result is the process itself.  Understanding that a million little results can be more important than one major outcome.
So important to appreciate the process and what it takes to get somewhere.
Sometimes forgotten especially in competititve sports.
So lots of  competition, business sports
Another big one or 2 , understanding there are different routes to different things.
In baseball development at the elite level there are the traditional routes.  Getting drafted in high school and going to pro and then coach,  or getting a Division 1 scholarship to play for 3 years then to pro.   
But my story is an example of how there are many different ways to get somewhere.
Think about it.  Juco to back to Canada to opening facility then figure out coaching then getting opportunity in pro ball.
For the younger athlete it is very important to take pride and enjoy the journey.  Same for the coach. If the coach is not enjoying the journey, what is the point?
TPM: There is a lot of connections to playing and coaching right? Also to business. Real time real feedback. If you don't adjust in business, you are in trouble.  Business has immediate feedback like playing does.  I love it. This is great.
So what do the next few years look like?  At 27 years old.  So much ahead of you.
Stay in pro ball?  Is that your calling?
TN: Getting a taste last year with my first year with Angels made me realize how much there is to learn in baseball and life. I am so hungry to continue build that part of my life
At the same time, I want to continue to build the culture here around Playball Academy Canada. This is very important to keep meeting that culture.  It will play a huge role in my future
The goal for me is to learn as much as I can and if that gets to me to coaching big leagues, that would be awesome. If that means I can keep growing PBA, then that will be terrific as well.
TPM: Last topic.  We spent some time at The Physical Movement talking about self-care and coaches.   Your young, but there are demands to what you do.  I am sure last year on the buses would have been an eye opener? How to you approach running the facility and in coaching in the minor leagues where does your care fit in?  
TN:Honestly that was a one of the biggest adjustments for me . I went from having the freedom to come in to a facility and take care of workout daily with time with no big stresses on time to the world of having to show up to facility for 16 hour days. Spring training would start at 530am and finish whenever.
Initially finding a way to balance that was a struggle. I was at a point where I was not sure I could do it.  I was running on fumes at end of spring training. Was not eating properly etc.
So I made the decision to get into a morning routine. That no matter what, I would get in 30 minutes a day.  That was not including coaching duties, but mobiity a lift whatever.   Sometimes that meant lift with players, which was embarrassing because they are beasts, LOL.
But I needed to find a way to fit it in.   And I did and have been able to do that since then
I learned from other coaches on how to built a sustainable routine so I could survive and enjoy the process.
As coaches, we focus a lot on the players. That is our job.  However, as much as it is about the players, we also need to take care of ourselves.   That allows me to be a better coach.  Whether throwing BP better or hitting fungos longer, more mental awareness as 3B coach.  As much as much does not seem like physical job, it is . Tough to Lock in 4 hours and stay engaged for that long in a game situation every day.
TPM: that's terrific. Set those habits early, cause does not get easier as you get older. LOL.
We do realize as we age, that the physical side can limit what we can do as coaches. Thanks so much this has been amazing.
People can connect with you on IG via https://www.instagram.com/trevornyp/?
TN: yes sir. Thank you. I enjoyed this.
TPM Note:
Another great interview. 27 years old and accomplished so much! To have the self esteem and support to follow his passion and go for it is a terrific lesson here and I know the baseball community and the KW region love Trevor and what he contributes. The energy and culture he has built with his team at PBA is 2nd to none. A side note, I have known Trevor for years as I first met him in the beginning when he was outfitting his facility. Since 2014, my son has loved spending time there and working on his game. It has made big difference for Jamie in his development and enjoyment of the game has he heads off to college to play.
Additional Bonuses This Week:
Remaining Calm Under Pressure.
What you should know about the latest on sleep and athletic recovery.
Don't let that leg strength slip. A simple leg strength routine.
Leg Strength routine courtesy of Athleticover40.com