Discover more from The Physical Movement: Play. Lead. Be Strong.
30+ years of coaching and teaching experience documented in a weekly newsletter. Topics covered include youth sport, leadership and human performance.
Interview with Lee Taft. Movement Engineer. Coach. Teacher. Speed Guy. Exercise Scientist. Business Person. Lessons from 30 Years Teaching Human Movement.
Lee Taft has spent 30 years breaking down how movement is taught so athletes and coaches can be better. We spend time this week getting to know his journey.
Good Sunday morning everyone.
We have another treat this week, this week's interview is with Lee Taft. I hope you enjoy it as much as I did putting this together. Some fascinating concepts and terrific insight.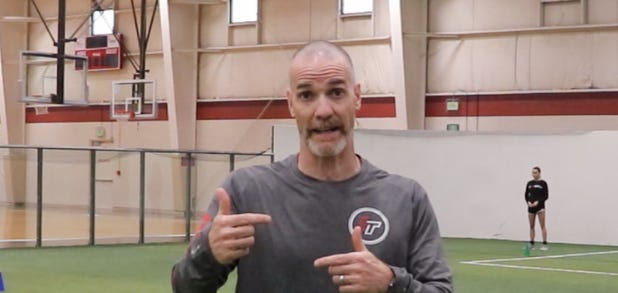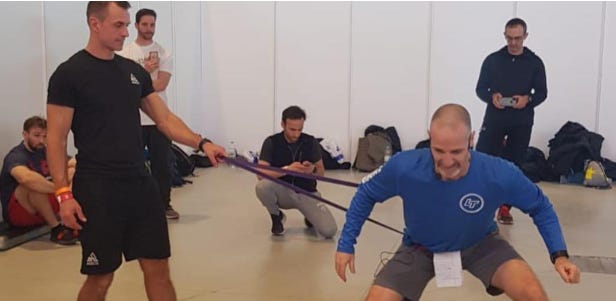 We have some additional bonus articles posted this week that we have tagged on for your Sunday reading pleasure.  One on how the universe is trying to tell us something and a quick overview about guy who always preached hustle and grind who is now promoting balance and happiness.
We have some great guests lined up for you in the coming weeks, so stay  tuned.
Alright, let's jump in. Enjoy getting to know Lee Taft!
Being blinded to something by an interest in something else is not always good.  Being focused so strongly on a topic of study and application thereof that you are unable to see other things objectively can be a challenge.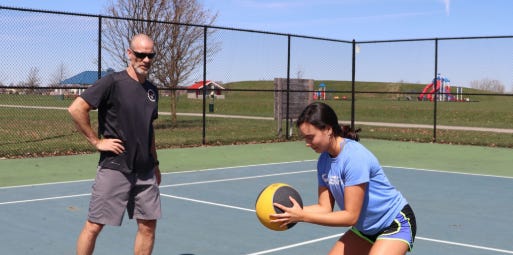 Many face that challenge once we pursue something that has created a spark within us.
For Lee Taft, he was 26 years old, had taught Physical Education and coached for a few years but felt the calling to want to spend as much time as possible instructing. Taking what he has learned and wanting to apply it took became his driving professional priority.   
Spending time disciplining students who did not want to participate in his PE classes was less enjoyable. So Lee started up the Speed Academy. In 1990 there were not many businesses set up to teach athletes how to become faster, yet the demand was there.   Parents of kids he had coached had asked for extra work due to his expertise and strong communication skills and passion for his subject.   Lee's expertise was indeed in demand.  But his degree did not come with Business 101 training.
When Lee found himself in his new 4000 square foot facility focusing on doing mostly what he loved to do things seem to be going just fine.  Until 6 months in the landlord decided to double the rent. Add that his planning forgot to include cost of adding equipment, marketing, and the ins and outs of running a business.
Blinded by passion for his craft is how Lee put it when we sat down recently to discuss his career, his start, the development of his movement model,  how youth have changed over the years, and the impact of the internet on young coaches and teachers. We also covered taking time to care for ourselves as adults, as well as what he would tell his younger self.
Lee persevered through the landlord rent thing, as most determined young coaches and teachers do when faced with obstacles.  After all, his interest in sports and physical movement was not a passing interest for him.
Growing up the youngest of 6, with a father who had been a coach, teacher, athletic director and promoter of physical education for 44 years will do that to someone. As Lee put it, "sports and activity are all I ever knew. It was part of my life."
Lee has memories of Dad leading the physical education curriculum at a military base in Jacksonville, Florida when he was young.  This was a time when the government made it a priority for young people to be physically strong, educated and able.  This was a time when the younger generation needed to be ready in case called to war.   This was not fitness, this was education through physical movement. His Dad led the charge, and his siblings all played sports and went on to be teachers and coaches. Family gatherings involved tennis and touch football, climbing and hiking in the Adirondacks where he spent a lot of time in upstate New York.  He knew no other way.
He played 4 sports in High School and 2 in college.  After high school he completed his undergrad at SUNY Cortland, less than 1 hour south of Syracuse. He settled in to coaching at his former high school and very quickly became the go to strength and conditioning and speed expert.  This was at a time when specialist in speed training did not exist.
After 2 years of teaching, Lee strived for a deeper dive and completed his Master's degree at the US Sports Academy in Daphne, Alabama. Lee longed for as much practical experience as he could have in teaching. He was most passionate about instructing. Being on the floor, in the field and guiding young athletes to doing and being their best.   The Master's gave him the opportunity for an internship with the Bollettieri Academy, which is now known as the IMG Academy, the premier school for young athletes.
Once back from his Master's, Lee went back to teaching for 5 years but always had the business open. When wanting to spend more time instructing, he left teaching and went to the business full time and has never looked back.  Currently you can find Lee online and via social media where is content comes in regularly and always based on science and principles of human movement.
We sat down with Lee recently and discussed how is career and passion for human movement and teaching have evolved over time.
TPM: Thanks for spending some time with us Lee,  I have admired your work for some time so great to meet you.
LT; Thanks for sharing some time with me, it is an honor for me to share some time and help the profession we love get stronger.
TPM: you have seen a lot of changes in how fitness and sports are taught and consumed by our young athletes in the 30 years you have been coaching. What are some of the biggest differences?
LT: Back then, when I was younger, the presidential council on fitness was all about being fit for battle. Those tests were implemented so our young people were ready if called to war.  That was the driving force to getting stronger and fit.
Today, there is more of a focus on sport education, as opposed to physical education.  Nothing wrong with that, however, we seem to have lost our way by focusing on sports at the expense of physical education for everyone.  Physical education's purpose is to strengthen the overall human experience, from children to adults. The development of the person is so important.  We have, as a society gotten unfit along the way by focusing only on sports.
Physical education is needed for everyone, not only by getting fit through sports. That is like saying that all those 2nd graders who want to be Mathematicians take Math, the rest go play with blocks.  
Physical education has to be a worldwide thing to help us avoid the problems we have today in lack of movement ability and overall health.
TPM: We have covered a little bit of your journey from athlete to teacher and coach.  You started your private career by opening a Speed Academy, and have developed a reputation around being a  speed coach how did that come about ?
LT: Love this question, thanks for asking.
As a college basketball player, I remember in my junior year , my coach would say , stop moving that way , moving feet this way.  That got me thinking and I was not entirely sure what he meant.  
As a result, I started to pay attention to what I was doing with my feet. I started watching film.  People moved without conscious thought on the most efficient way to do so.  We were not thinking about footwork and nobody else seem to be.  So I watched.  I took notes.   
I started to see movement patterns on how athletes reacted to stimulus. All did the same thing more or less, of course at different levels based on ability.
At first, I did not know why that was, but was ok with that.  
I realized that everyone had same qualities.
I started to learn about sympathetic nervous system and signals sent to body by the brain. It was totally about fight or flight response.  If something prompted us to move, we moved. We did not break down how, and neither did the coaches.
Started to look at physics and connect the dots.  Started watching athletes moved and see patterns and compared to laws of movement.
Back then, we did not have youtube of course, we had to go watch in person. Had to see people move. Had to go to the library and read and watch old film.
 What we do now in minutes. Took weeks and months.
As you will remember Greg, there was lots of information on sprinting but not on multi directional speed.
Based on that I started to create my own model : I saw how athletes moved,  connected it to physics and laws of movement and created my own model.
TPM Note: OK, this is something.  This dude is sharp.  He spent a ton of time observing, researching and thinking about what was being taught and tried to find info on multi directional movement, did not find it, so create his own speed development model. This is what I call a movement engineer. Designing and building a movement model.  So cool!
TPM: I find that fascinating on multiple levels.  One level is that I can totally relate to coaches not breaking down skills. Still to this day, I see instruction cueing athletes to "just move quicker" without any instruction or guidance on how.
 What would you recommend to the skill coaches to help kids with their footwork and movement ?
Yes, you are right. If we wanted to break it down into a few things.
Example: tennis. if you look at the tennis serve, when the athlete prepares to serve. They are bouncing. Not very low, but have an elastic energy.
When they must move, for example when serve and return comes wide, they have reactive elastic responses.
There are also movement that requires more power.  Sharp cut to get to a ball. So the athlete requires more knee bend and hip load to get there. There is a heavier load on the body so they can execute.
As a coach, we need our athletes to do it all:  ability to load low and need elastic energy.  
We can teach that skill and have the athlete go through it and let them go. Let them develop.
Guide the learning path and don't take it over.
Watch how they absorb that new skill.
Don't interfere with the learning process, only guide it. 
This biggest problem I see is taking something holistic and natural and break it into parts too soon. 
We have to break it down into parts if and when the learning path gets distorted.
For example, instead of athlete going A to B,  they going to A to Z, if I give them a little interjection , I can get them back on track. That is what coaching is all about.
Example. If we take a 3 years old and want to teach them how to ride a bike.
You can help with hands and how to sit, but until they get a feel for the balance, you cannot help them. They need to get a feel for the skill, a sense of what it feels like. Let your body discover.
Learning the skill is the same way.
Learn the elastic energy and power generation, then let the body figure it out and guide the process until they start to adopt it. Once re-enter the sport the skills will integrate into the sport.
 Sports absorb the skills and makes them look like that sport. 
TPM note: this is where the coach and teachers knowledge of the skill becomes so important. That knowledge must be there, and the requirements to execute the skill.  Many times young athletes may not be strong enough to perform that sharp cut over and over in a demanding game or activity.  The point around letting the athlete figure it out is awesome and worth repeating.  Teach the skill and let the athlete develop. Let them absorb. Guide the process, don't take it over.  Awesome insight.

TPM:   Giving the kids a chance to move and play.  To explore. That is a bit of a lost part of our society is it not?  What would you say to parents who want to help with development?
 LT:  That is a lost method of living.
That is what we did. We had much less choices back then. We learn from our environment. We watched older kids on the block and did what they did.
In upstate New York , we climbed, we jumped , we ran. That is what I knew , that is what I learned.
When that taken away because of technology, our youth don't have that chance. It's not normal today for kids to go out and play.
So what I would suggest for parents is manufacture a play environment. Get involved if you need to get started, then let them go and explore.     
We are in a state of explicit learning currently.  Kids are told what to do.
We learned in implicitly back in the day.   If we fell out of a tree, we figured out how now to NOT do that again , cause it hurt. We learned through figuring out how to make it work when playing with older kids.  If someone blocked our shot, we figured out a new way. We learned through trial and error. Failure taught us to come up with another way.
When failure happens, that's when we learn.
I would encourage parents to let kids get into environments where its ok if they fail.
Its ok if they fail. If they don't fail, they will never reach their full potential.  Because when failure occurs that is when the brain tries new patterning. This is where the brain tries to figure out things and teach a better pattern for you because the last one did not work.
We don't do that now.  We don't allow that now.
So if we are doing to develop kids, put them in an environment where they can figure stuff out, and let them go through experiences.
Parents want to cut out failure parts, but that is the most important part. Your brain says let's roll up sleeves and figure out cause last one did not work.
If we do everything right all the time, we don't have that foundation to adapt and it creates young kids who think they should win all the time,  and when they don't they get frustrated and go home.
We have created groups of young kids who are entitled, because think they should win all the time.
Get to environments where failure is an option.
TPM Note: this is powerful stuff. Worth re-reading as there is a huge amount of drop outs with youth who don't win all the time. They stop participating. The data says about 13 years old.  This is why. Don't have failure as an option. So they stop when they don't win. That is the damage of focusing on outcome all the time, and not the journey of development. Wow.  
TPM: There is lots of research these days coming out on different aspects of movement, at least shared a lot quicker than it used to be. How do you stay up to date on the latest research?
 LT: Yes, information comes at us fast
Huge disservice to young coaches and teachers to have so much so fast.  Constantly tempted to follow next butterfly or big shiny object. 
Years ago, we did not have access to quick information.
That gave us time to absorb the information and understand it, try it and apply it.
At beginning today in our conversation, I appreciated you asking how I got started. I looked early in my career on how the brain signaled our bodies on what to do. How the body sequences movement patterns.
Based on that,  I have a model of human movement to compare what is coming out.
Biomechanical laws. Not just my thoughts but what science has taught us.
That is the key. Ground ourselves in foundational science.
Ask the question when reviewing new information, does it fit into the model or not?
When I do retreats with young coaches, I make sure I share the message to not be intimidated by all the information, create a foundation so you can quickly decipher a solid model on foundational skills.
Stop being drill focused because a drill can trick people but a skill, the human qualities of that skill guide us, the drill can't fool us because it does not strike the cord of science.
TPM note: The downside of internet,  is a lot of the information coming at us, some of which not based on scientific principles of movement or skill development Not always a high barrier to enter into the strength and conditioning positions of influence.  This is important for all of us to remember and connect with those coaches and teachers who have spent the time researching and applying their craft.
TPM: Let's transition to business a little. In school, as physical educators,  we are not given business training .  What are some of the things you would advise young coaches on transitioning to the private sector and business?
LT: I certainly learned via the school of hard knocks.  I think you shared the story about being blinded by passion and opening a facility at 26 not really knowing anything about business. There were some painful lessons.
What I would recommend to young coaches going to the business side:
Understand the basics of business. Things that can help share story with community , cause that is how you build clients. Get clients to come by sharing story and creating a connection
Sharing story with parents: what are you doing and why. Let them into your heart as opposed to just selling a program.
Use your communication skills to connect with people
I used to do what I call marketing clinics. I would get in front of  bunch of people, go to high schools , go to a elks lodge and talk to them cause they had kids, share the story of what I was doing, create a relationship and network.
Let people know what you are doing and why but don't beat your chest promoting yourself as the GUY.
If young coaches can learn that, now you can set the limit wherever you want.
People want to be around purpose and reasons …..that creates a connection and good things will follow.
TPM: I have noticed more and more of your online content focusing on the athletic adult. How did that transformation come about?
LT: First of all that is us, right? we are those adults.  I will be 55 this year, and I want to stay athletic . We have athleticism.  We all are athletic. We need to move to stay athletic, to be athletic.
I struggled for years with back issues, some health issues that prevented me from doing some things I loved. Because of that for a long time avoiding doing things.
Then I started putting emphasis on what I could do. I can't do what I used to, but I can still jump and run.
We need to be safe be smart, be athletic, be strong , work on range of motion , develop strong core  to stabilize movements.
The work with adults started back in the facility when parents asked for me to do with them what qw were doing with kids.
Years ago I started sharing what we did with athletes with their parents, just at a different level. Throwing medicine balls, working with bands.   Did that for years, did not market it
TPM: That is right up our alley, because coaches and teachers often put so much out there, they forget to take care of themselves, and neglect their physical health.
 LT: Yah, in business in our jobs, we all got better by exposing to stress.  We adapted and got better.
Our body is the same way.
20 minutes every other day will do the same with the body. The body adapts and gets better .
Reason we see a lot of adults tear tendons and get injured is because they have lost stress of tissues and bones and become more fragile.
We cannot afford NOT to take 20 minutes 3x per week to keep ourselves strong.
Today for example before this interview, I did some jumping jacks ,some skips, have some bands: pulled and pushed, worked on flexibility and lateral movement. After 30 minutes and huffing and puffing, felt great.
We make excuses not to do things, but when we get older and something goes wrong , we wonder why.
Like investing our money. We need to invest in our bodies to get the return down the road.
Moving every day is a requirement!
TPM: If you could talk to Lee Taft from 25 years ago. What would you tell him?
Do we have 2 more hours ??  LOL.
As I look back, even though I am big now on it, I would have wished I volunteered with other professionals more.
Be around coaches and learn from them , how can I help and learn at same time?   
Don't think I did that enough when I was younger.
I was always so busy but did not take in enough from others.
1 thing when I speak to younger coaches,  do not ever think volunteering is not a good investment , as you learn from the experience and that will be so satisfying.
That is what I would tell 20 year old Lee Taft , do more of that.
TPM: Notes: Well we did more of that today. We shared our interview with one of the real engineers of movement, who studied and applied principles of movement to help thousands of athletes and coaches from all over.
What a treat to spend time with Lee Taft.
If you want more from Lee Taft, go to https://leetaft.com/  and you can see that he has built up a ton of resources to share. Some movement specific , some sport specific , but all outstanding!
You can follow Lee on Social media on youtube, twitter, facebook and instagram at leetaft.
Additional articles posted this week on The Physical Movement:
The Universe is Trying to Tell Us Something.
The Man Who Has Preached Hustle and Grind is Now Preaching Balance and Happiness.