Discover more from The Physical Movement: Play. Lead. Be Strong.
30+ years of coaching and teaching experience documented in a weekly newsletter. Topics covered include youth sport, leadership and human performance.
Meet Frank Fascia: 25 years of Coaching and Volunteerism. Committed to Human Development & Making Volunteerism a Positive Experience.
The Physical Movement is a Sunday newsletter focused on leadership lessons from from the world of sports. TPM shares good news & best practices so we can be better coaches, teachers & parents.
Picture courtesy of Frank Fascia.
Good Sunday morning!
Each Sunday, a fresh edition hits the inbox to our subscribers. If you like what you see and would care to join our community, we would love to have you subscribe. Perhaps tell those you know who might also be interested. Subscriptions are no charge.  You can learn more about our newsletter here: https://thephysicalmovement.substack.com/
This week, we get to know Frank Fascia from Brampton, Ontario. I enjoyed our discussion as well as his perspective and insights on coaching, leadership, youth today as opposed to years ago and dealing with parents of young athletes.  I think you will as well.
We also have a couple of interesting articles.  One is the review of a speech that was labelled as one of the best ever, about how to live a good life.  We also a powerful video on the power of our words as Coaches.  Of course our self care article around simple strength, tips for us coaches, teachers and parents to fit in some productive fitness time.
In the coming weeks, we have some great features coming up.  To name a few,  we will meet the SPEED GUY who has been coaching and teaching human movement skills to athletes of all ages for 30 years.   We meet a young 27 year old coach in the LA Angels organization who has accomplished some cool things by following his passion.  We meet a former NFL player who parlayed his athletic commitment into a Kinesiology degree and career as trainer, teacher, coach and facility supply and design.   It will be fun. Again, if you like, we welcome your subscribe and share (no cost).
Thanks for joining us, and let's get going with today's feature:
When you think of Italy, we do not always think of baseball. But the Italy /baseball connection is exactly what introduced Frank Fascia to volunteerism and contributions to his community.  More specifically, Frank's dad, who emigrated to Canada in 1953, specifically Montreal.   
Perhaps it was the radio connection to St. Louis Cardinals games and listening the exploits of Stan Musial and Red Schoendienst. Or maybe it was the excitement created by the Montreal Royals of the 50's as the farm club for the Brooklyn Dodgers.  Whatever it was, Frank's dad fell in love with baseball, felt strongly about keeping the kids busy and very quickly Frank found himself off to T-ball at a young age. When he moved to organized baseball,  his dad was the president of the local community organization, the Lakeshore Braves.  From a very young age Frank was exposed to volunteering and the importance in contribution to the local community sports organization.     Growing up playing different sports, including baseball, hockey and badminton, Frank developed a sense of enjoying multiple sports.  Little did he know that these events would shape his perspective later on in life in coaching and leading young athletes.
Side note: Frank and I only recently realized that in about 1980 our paths may have crossed on the baseball field, he with the Lakeshore Braves and myself with the Lachine A's in the Montreal region.   A small world indeed!
Fast forward to 2020 and Frank is a proud father of 3 sons and family man, is playing Men's league in baseball and hockey (No small feat in his 50's), played Division 1 baseball in the USA graduating in 1990, gravitated to coaching in 1995 at various levels, was a scout with Houston Astros form '92-97, ran the Brampton senior men's team outside Toronto, was a member of  the executive with the Brampton Minor Baseball Inc.(BMBI).  He has also spent time with Baseball Ontario, has been a coach developer and learning facilitator since 2014 and continues to be active coaching to this day. All the while successfully navigating a business career.
The Physical Movement (TPM) sat down to get to know Frank, and some of the insights he has developed over his career.
TPM: Hi Frank, thanks for spending time today and congratulations on a stellar career in coaching and volunteerism, and most impressively while balancing the priorities of family and professional life.
FF: Thank you for having me.
TPM: Having been around sports for most of your life as an athlete, coach, executive, and parent , would you say that one of the  biggest differences with kids of today versus yesteryear is the concept of specialization?
FF: Really interesting question. I go to the idea of nurture vs nature: if kids did not know any better and saw friends playing different sports, then they would do that.  Currently, they are seeing their friends playing elite soccer or baseball year-round, so that is the norm.   
Keeping up with the joneses is fueling the specialization.    
We need to get to parents earlier, help them to understand that kids need to develop regardless if scoring 100 goals at 12 years old.  If the young athlete is scoring 100 goals at 12 years old,  does not keep developing and maturing, then those 100 goals wont translate to development, success later on at 17 when others have caught up to his physical skills.  Development never stops and there are different ways to develop.  
If you could develop better by playing other sports, then why not?  Other sports keep the body moving differently, and puts them in different mental situations.  That is good for the young athlete.
Having said that, there is a place for specialization, but probably later through the teen years, so it should be age appropriate. If a young athlete thinks that they have what it takes mentally and physically to play at the college or pro level. When at 16u or 17u level, probably best to specialize and build up strength and functional movement.  If there is a place for specialization it is at later ages when the skill development
Over the last couple of years, I have developed an appreciation for strength and conditioning and its importance in athlete development.
TPM Note:  Some awesome points here on how access to what others are doing are influencing the path for our young athletes. In our youth in the 60's, 70's and 80's , we played everything.  So did some of the best of all time. Jordan and Gretzky for example have well documented stories of playing multiple sports.   The age of specialization and privatization has changed that path.
TPM: That is so powerful. That bridges to the role parents are playing in their kids development today. How have you seen parents change over the years?  
FF: Interesting, I have had this conversation a lot. Both parents and kids have changed the same way in that they have access to information and that has influenced their actions.
When we grew up, we tried out for the local team, example the Lakeshore Braves. If we did not make the team, then tried out next year.
Today, if not make the team, there is more of a global village, and our youth go to a neighboring community to play.  That community has always been there but never would have approached them in the past. Today, that is not uncommon.
With access to information, the world becomes a smaller place.  People move a lot easier.  Biggest change in that parents access it easier.  With parents, if they want something for child, it has become the norm and quicker to take path least of resistance and find him/her another place to play. As opposed to try harder and train harder and learn more for the next time. Because that is a more difficult sell to the kid.  The perception is the first coach was not fair, so let's go to another town where the coach is better.
Having said that, I am a big believer in managing expectations.
Starts at tryouts. Have a season plan. As a coach I share that. Understand that if you make the team and you agree to be a member of the team, then you agree to the plan. Here is the plan, and the coaching philosophy.
The coaching philosophy is simple, how you play dictates playing time, not the coach.
Managing expectations reduces issues with parents because they know where the standard is from the beginning.
Having said that, parents are much more comfortable contacting coach questioning different things.   I have the ground rule that  24 hours must pass before discussing an issue with a coach.  That has worked for me, but I think coaches can do a better job in managing expectations.  
TPM note: the concept of parents approaching the coach with questions is quite something and a real modern concept. This never happened years ago.   The coach having a season plan and setting the standard early is also powerful.  Referring back to our work studying John Wooden, he would set the 3 rules and standards from the beginning.  No profanity.  Don't be late. Don't criticize teammates. Those were the 3 rules to start with as part of the agreement of being part of the team.  Agreement from the beginning of the conditions of being part of the team.  That is powerful for coaches, regardless of the sport or in the gym.  This has major repercussions around preparation, academics, behavior and managing outside influences to the coach and team.
TPM: There has been be a rise in coaches' certifications, help volunteers increase core competencies in teaching, you have been part of coach development work you do. Do you see certifications need to implement curriculum around setting standards, expectations and leadership?
FF: That's a great point, when you look at all the modules, we teach how kids learn, teach techniques, teach game strategy, but not enough on leadership side.  We do not go through managing organizational behaviors, managing expectations and the parent group.
That is what drives me as an administrator of a volunteer organization. Because it is so hard to attract volunteers, my goal is to create as much of a positive experience as possible for a volunteer coach. That is a very difficult task.
Many of my strategies flow from that objective to better the volunteer experience.
TPM note: a great note for all those overseeing certifications but also for coaches out there who are volunteering their time.  The concept of it being an enjoyable experience for the coach. Certainly, the coaches I have seen put in a ton of time, and effort. Sometimes at the expense of their own health and family time.  For it not to be positive, is tragic. Really, that also impacts why so many good people do not want to step up. Coaching the kids and helping them learn is one thing but to have to manage parental influence, the administration of the team, the field preparation, planning practices, being transport service etc etc takes away a lot of the fun.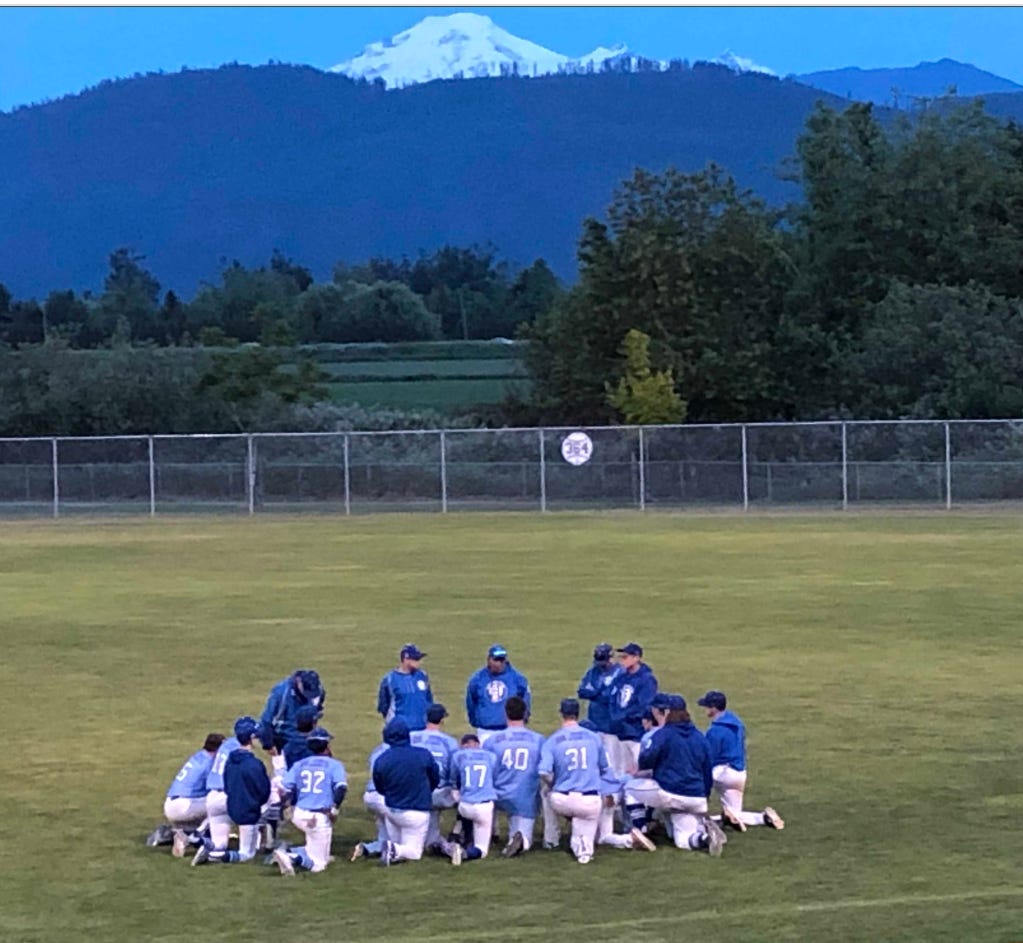 What a great picture, picture courtesy of Frank Fascia.
TPM: Great point, setting expectations of being able to deal with disappointment. 1 of the things parents and young athletes can learn is how to deal with things when they don't go our way. As opposed to expecting them to go your way and be shocked when they do not match expectations.
So how do those lessons translate to your own sons as they grew up playing?
FF: We have 3 sons . We are a baseball family. Zach is the middle boy. Dawson (older) and Alex (younger).
Here is a story. 2010. We took a team to Cooperstown for Dreams Park Baseball Tournament. Dawson was a guest coach but takes ill, and it becomes serious. Cooperstown hospital, then Albany and then fly to Toronto as he had contracted Leukemia.  We are beside ourselves. You hear of things like this happening but never thought it would happen to our own family.   Fast forward. We are blessed. 3.5 years to fight it, he recovered, and he is doing well today, but that experience put things in perspective.
We always felt grounded as a family, but that experience gave us even more perspective.
All our kids have been cut from teams for whom they tried out.
Even Zach, the star athlete of family, drafted by NY Mets 2 years ago. Division 1 athlete at Purdue. He's been cut. All of our kids have been cut.
Our family message has been "whatever, that happens in life, let's deal with it."
Sometimes you look back and say why did the kid not make the team? It could be the numbers are not in your favor because of a lot of good players.  Sometimes you could have done more to prepare, sometimes unfair situation and the kid getting cut gets the short end of the stick.  Our lesson has always been to move on, let's control what we can control and do better next time if we want to make the team.
This is such a powerful message in development through sports participation.
Currently, everyone concerned about this current baseball season and will it be cancelled due to the pandemic? But, all we can do is control what we can control.
We have the opportunity through sports to teach the positive side, in this case spending more time with family. Learning to use online resources.
There is a silver lining to this crazy time, and some ways to make the best of it. If we get back on field great that will be great, but we can't control that.
It has been an incredible 2 months for our family.  In the last 2 months, we have had 5 people at the table for dinner every night.  Which has been a blessing.  And things will get back to normal but for now this is nice.
TPM note: control what we can control. Learn to deal with things when they don't go our way. DO better next time. Powerful development lessons from the world of youth sports. In sports, things do not go our way most of the time!
TPM: Such an important message for our youth and parents. It comes back to the message of dealing to bounce back to things when don't go your way, right?
FF: It reminds of the Rocky Movie: Not how hard you get hit, it is how you get back up after getting hit.
Every experience is a teachable moment.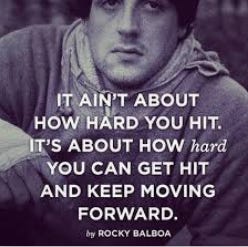 TPM: With that experience as a player, coach, parent, executive for over 25 How do you think baseball is doing in Ontario and Canada compared to where it was and where do you think it's going.
FF: Oh boy, now you are putting me on the spot.
Baseball has changed a lot over 25 years. Because I am a business owner, and capitalist, I have no problem with private organizations profiting from baseball development.  Sometimes I have an issue with how private organizations acquire players, in terms of promising scholarships.   I am fine with any group profit or not, working in baseball development, as long as their number 1 objective is to develop the player and the human being.   If you are doing those 2 things, then I am all for it.
I like the BC and Alberta models, and none are perfect, but I like where the private enterprises work within the provincial and national governing championships. They can play for provincial and national championships.  But when they do play provincially and national championships as long as they play by Baseball Canada rules.
I would love to see that come to Ontario, so the elite leagues come under 1 umbrella in developing the individual with the provincial organization.
The Physical Movement From Around the Web:
How to Live a Good Life aka How to Guarantee a Life of Misery. A classic recounting of a speech from 1986.
Coaches, parents and teachers : we have to stay and be strong to be at our best. Part of the Couch2Coach Series. Simple steps to keeping your legs strong.
The Lasting power of Coach's Words from TedX: